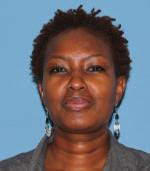 Dr. Jane Wathuta has a Bachelor of Laws degree from the University of Nairobi and is an Advocate of the High Court of Kenya. She holds a Master's Degree in Marriage and Family from the University of Navarre, Spain, and a Research PhD in Bioethics from the Biomedical University of Rome, Italy. She was a postdoctoral research fellow from 2015-2017 and later a visiting research fellow both at the School of Law, University of Witwatersrand in Johannesburg, South Africa. Dr. Wathuta has trained in research ethics, ethics education and human rights at various institutions in Africa and Europe.
Jane serves in the National Scientific and Ethics Committee (NSEC) under the National Commission for Science Technology & Innovation (NACOSTI – Kenya) and the Research Ethics Committee of Strathmore University. She is also a member of the Bioethics Society of Kenya, the Law Society of Kenya, and the co-founder and chairperson of Women in Academia (WiA.ke).
Dr. Wathuta is currently the Academic Director at Strathmore Law School, the Director of the Strathmore University Institute for Family Studies and Ethics, a lecturer and researcher, research ethics trainer, supervisor and examiner, and a mentor to many. She is an author in several journal articles, book chapters and technical reports. She has also been an invited peer reviewer for various academic journals.
She participated, as part of the University of the Witwatersrand team, in the TRUST Project "Creating and enhancing trustworthy, responsible, and equitable partnerships in international research" (2015-2018) funded under the EU Horizon 2020 Program.